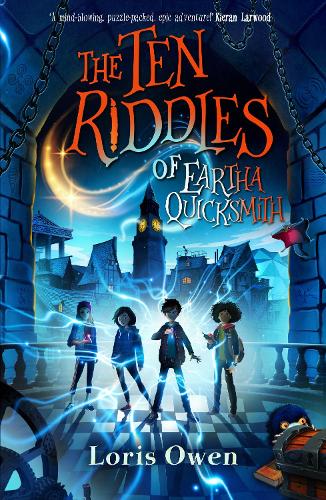 I had told myself that I wouldn't, shouldn't, must not request any more books from Net Galley until I'd got through some of the physical reads in my TBR pile but after seeing this glorious cover, and reading the review from my Twitter friend @notsotweets, couldn't resist. Having now read this wonderful book, I have made a mental note to self to not be so silly again.
Anyone not reading the blurb might assume that this middle grade read is about 'Eartha Quicksmith' but although she plays a key role in the story, our attentions are instead drawn on starting it to Kip, a seemingly very ordinary boy. We find him initially completing his homework as he waits for his regular Saturday morning chess club to start after being dropped off by Ashleigh, the daughter of some neighbours, who acts as his childminder. As he waits, his attention is drawn to a strange insect-like drone which delivers to him an envelope inside which is a fifty-pence coin unlike any in regular circulation in that it carries the message: 'CHANGE YOUR WORLD'.
After later being taken back to the home he shares with dad Theo, Kip hides the envelope inside the cage of his much-loved flying squirrel Pinky and waits for Theo to return from his job as a chef. As he does so, Ashleigh's parents carry out some odd jobs around his flat and Mrs Pointer, with a remarkable lack of tact, comments on a photo of Kip with his family in happier times before Kip starts to reflect on the loss of his best friend, who has emigrated to Australia, and how miserable his school life is.
Having had another rotten day in school on the following Monday, Kip finds a new gum-vending machine on the way home and again spies the message 'CHANGE YOUR WORLD' stamped onto it. Intrigued now, he uses his 50p to buy a plastic egg from the machine, the contents of which on closer inspection are clearly linked to the envelope the drone brought. As he ponders upon the meaning of what he has found, his deep thinking pays off as he reveals an address to visit, and time to arrive, a fortnight later.
Sneaking away from Chess Club to keep his appointment, Kip finds himself trying to unravel a set of clues which, once he has decoded them, lead him to a garden where he sees the words 'Quicksmiths College of Strange Energy' floating in mid-air above a gentleman who introduces himself as Professor Mo. The professor clearly knows who Kip is and explains to him where he is and why. From this point on, Kip's life will never be the same as he starts an entirely new way of learning and together with several new friends must work to solve the ten riddles of Eartha Quicksmith in an attempt to bring his family back together. As he tries to solve the puzzles, Kip discovers that wherever he learns there will still be bullies and faces both great danger and, even worse, the prospect of not being able to reunite the family he so dearly loves.
For many readers, comparisons with the Harry Potter or Morrigan Crow series are inevitable, after all they are all based within educational establishments for a great deal of the time, but this book seemed to me to be an entirely fresh take on the 'child-from-the-normal-world-gets-magically-transported- to-boarding-school' genre. For a start, he is not living with unkind relations – Kip's father loves him dearly – and although he is bullied and unhappy at his school he maintains contact with Theo after starting at Quicksmiths.
In the new world in which he finds himself, everything that is 'different' is not magical but rather is explained in terms of the more scientific idea of 'Strange Energies', which allow those who can see and feel them to create all manner of wonderful inventions. As Kip finds out more about these energies, he finds true friendship and starts to discover the nature of his own abilities.
I very much enjoyed this book and am hoping that there will be a sequel as, while the story works perfectly well as a stand-alone read, there are so many unanswered questions at the end of this book. In particular, I want to know more about Kip's family although I do not want to say more than that here for fear of including spoilers here for those who haven't as yet read this. I would recommend this to anyone looking for an alternative to Harry Potter or the Nevermoor stories. There are definitely several of my current year 5s and the Year 6s I taught last year who would love to read this as much as I did and it would also make a great bedtime read for children in year 4.
Huge thanks to both Net Galley and Firefly Press for allowing me to read this ahead of publication on September 10th.