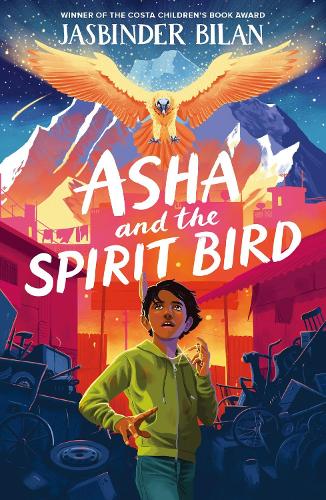 As I believe I've said here before, when I ask my class what sort of book they would like to read, in order to help me choose titles to suggest from my little library, adventure is what comes up time and time again. In the main, the adventures that I have been able to offer them up until fairly recently have been set in the UK or in fantastical worlds so when I chose this read as one of my Believathon books, I was really chuffed to find it is set in India, with lots of wonderful references to the geography, religions and cultures that can be found there.
Luckily for us, the book starts off with a very helpful glossary before the story proper, to give the reader a flavour of what is to come. I found this very useful – some of the words I was familiar with, but some were new to me and although I would've been able to infer the meanings of many of these, for younger readers not having to fetch a dictionary mid-read will be a bonus.
When we meet our heroine, she is pining for her father who has gone away to work in order to send money home to support his wife and children. Asha's family have not heard from him for some time and she is absorbed in reading a letter from him when she is brought back to her senses by a cowbell ringing – seemingly by itself. Immediately following this, her friend Jeevan bursts into the cowshed where she is, to alert her to the fact that her mother has very unwelcome guests.
Rushing home, Asha discovers that her mother has been forced to borrow money from a woman called Meena who has turned up with a couple of heavies to demand payment. Unable to give her anything, the woman seizes the family tractor in lieu of interest on the loan before leaving, telling Asha's mother that she will return at Diwali for full payment – payment which if not forthcoming will be settled by the possession of the family home.
Later that day, Asha spots a lamagaia – a vulture-like bird which causes her to remember her nanijee (grandmother). Mesmerised by the bird, she picks up a feather it sheds and, weaving it into her hair, decides to christen it her spirit bird. After discussing what she should do with Jeevan, the pair of them go to visit a palm-reader at the edge of the village well-known locally as a witch. Here, Asha is told that she has been called by the Mountain Gods and should go to light a deeva lamp at the most northerly temple in the Himalayas at Kasare. As the old woman forces her to look into her eyes, Asha experiences a vision of tigers and banyan trees and is told that the lamagaias will guide her on her journey.
With Jeeva's help, Asha plots to leave home while the rest of the household are asleep and sets out on her mission to find her missing father. As the two make their way towards their final destination, she must face personal sacrifice, terrible hardship and dangers she could never have dreamed of on her journey. With Diwali edging closer and closer, will she be able to track down the father she loves and will they all be able to return in time to prevent her family becoming homeless?
Asha is a brave and determined protagonist – a great female role model to all of our children but what I found interesting here was that Meena and another key 'baddie' later in the book are both female. If we want our children to see that girls can be brave and fearless – as well as boys – than actually we should also have more female antagonists to show that women have the same potential to inflict misery and harm and here they do so to great effect.
As with all adventure stories, the adventure itself is filled with obstacles and perils. Here though, the obstacles and perils are very serious at times and are described in painful details – the sort which are very often excluded from children's stories. When Asha's shoes have rubbed, we are told about the blisters on her feet so clearly that I winced thinking about the pain she would be experiencing. Later on in the book, when Asha and Jeevan find themselves on the wrong end of a gang, Jeevan is assaulted and although – fortunately – we do not witness the attack on him, we read about the aftermath. This is all handled very sensitively though and is in no way glorified, or gratuitous, so that children in upper Key Stage 2 should all be very capable of dealing with what is written – either if they were to read this alone or if it were to be used as a class reader.
And this would make a great class reader – particularly to tie in with any in-school celebrations of Diwali or a topic on the Himalayas. I really enjoyed it and cannot wait to share it with my Year 5 class. 4 out of 5 stars.