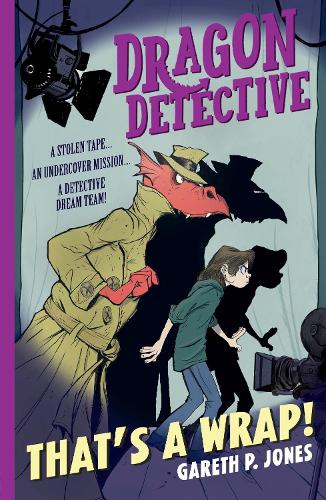 I'm often a little reluctant to jump into a series part-way through, preferring to start with the first title and make my way through the ones that follow it in an orderly fashion but when I was offered a copy of this from Little Tiger I decided to give it a go. As well as trying to increase the selection from which those children in my class who prefer a slightly shorter read can choose, I was looking for something that would appeal to both boys and girls because – as I've said here before – although most of my more reluctant readers are boys, they turn their noses up at anything they see as girly.
And girly this is very much not. Although our protagonist Holly is female, her appearance on the front cover is not obviously so; in fact I would say her gender is quite ambiguous and I am hoping that the Dragon Detective in his stereotypical trench coat will appeal greatly to the class, as it did to me. After all, who doesn't love a dragon?
Our story does not open with either Holly or a dragon, instead we meet billionaire Brant Buchanan in conversation with his driver, Weaver. The two men are discussing the subject of dragons – something sparked by Weaver's acquisition of a book entitled Dragonlore for his employer. As he is driven home, Brant watches some grainy CCTV footage of the detective and Holly together before telling Weaver that he intends to make good use of Holly Bigsby in order to get to our hero.
The Dragon – Dirk Dilly – is, however, blissfully unaware of Brant's plans for him and instead is focussed on watching the demolition of an old building where two other dragons are up to no good. Holly on the other hand is stuck at home, having been grounded after a previous adventure with Dirk left her covered in blood – something she was unable to explain satisfactorily to her parents, who are blissfully unaware of his existence.
With the threat of being sent back to a boarding school that she hated if she does not toe the line, Holly is struggling to entertain herself, sneaking downstairs late at night to watch TV while her parents are asleep. While she flicks through the channels searching for something to watch, she is joined by the family's cat which has come back from a jaunt outside and is carrying a message from Holly's friend Archie asking to come in.
After sneaking into her parents' bedroom to obtain the code for the alarm stored on her stepmother's phone, Holly manages to smuggle Archie in, but the two of them are then stunned to find themselves invited to America together with Holly's parents via a call from Brant who turns out to be Mrs Bigsby's boss. The two friends soon find themselves not just in America, but in Hollywood where Holly is reacquainted with spoilt brat Petal who is starring in a film being made of her somewhat short life story. This film, of which the director reveals all trace has apparently disappeared, supposedly includes accidental footage of dragons, proving their existence.
At this point, Holly calls Dirk and brings him up to speed on what is going on. Alerted to the terrible possibility of dragons being discovered by humans, he makes his way to LA where together with Holly and Archie he sets about trying to piece together what is happening. Will Dirk be able to find the missing footage in time or will the existence of dragons be revealed? What is Brant's role in all of this? And just what does he want with both Holly and Dirk?
As I said earlier, I have not read the three books that precede this one, but luckily for me that has not mattered in the slightest. Although there are references to what has happened before, they are sufficiently detailed to fill in any gaps that need to be filled with regard to what has been going on so that this makes a great stand alone story. They are also so beautifully woven into the narrative that at no point did they feel forced, which is much to the writer's credit. There are few things more painful in a continuing series than having plot patches crammed into a book in a contrived manner so that they stick out like a sore thumb.
Unlike many other reads aimed at lower Key Stage 2, there is a lot of plot crammed into this book. I was involved in a conversation on Twitter a couple of weeks ago where those of us taking part were complaining about the lack of decent books for Years 3 and 4 compared with 5 and 6. Some of the books that I have read for this age range have been very thin on plot and I have found them a little patronising. Here, I was very pleased to see that younger readers are not spoken down to but are given a story which unfolds with lots of twists and turns and is an absolute delight. It is also – as I hoped – a story which will have a very broad appeal.
While dragons obviously play a large part in the book, it is more of a straightforward detective story than it might at first appear. Although there are elements of fantasy, as you would expect, neither Holly nor Dirk is over-reliant on either magic or skills such as breathing fire so this book will appeal greatly to many of my class. As I said earlier, many of my boys will not entertain reading a book with an obviously female protagonist portrayed on the cover but with dragons being cool, they will not lose face by reading this in class. Equally, my girls – who generally speaking are more open-minded about reading materials – will also want to read this because Holly is someone who they will aspire to be.
I wouldn't use this as a class reader in year 5 but I know that a great many of my children will enjoy this – either to read alone or to share with their adults at home as a read-aloud story. At 234 pages, I am hoping that it will particularly appeal to those more reluctant or less confident readers who are ready for something slightly longer and more grown up than what they are currently reading, but are not quite ready for those more challenging titles that run to an off-putting 350 – 400 pages.
As for me, I really enjoyed this book. Packed with adventure it's one that I am delighted to be able to share with my class. So much so that I am planning to ask for the first in the sequence – Catnapped! – for Christmas to see how it all began. Until then, enormous thanks – as always – must go to Little Tiger for my copy sent in advance of publication on January 7th. A fantastic 5 out of 5 stars.