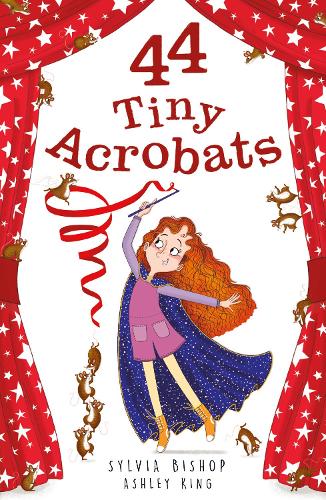 Warning: contains spoilers for Book 1
Before the pandemic, I was very fixed in my ways reading-wise. Although I read a fair amount of children's books, they were almost exclusively fantasy for upper Key Stage 2 and the adult books that I read were crime novels – mostly set in the Tudor times. Over the past year, I have read fewer and fewer titles aimed at adults but have broadened my choices of those aimed at children to include more for Years 3 and 4 and to include those set in a wider variety of genres. Children, however, tend to stick to what they like and know and for a great many of them it is funny books that they ask me for.
44 Tiny Secrets – the first in this series – has been an enormous hit in my class thanks in equal parts to its gentle humour and the glorious illustrations of Ashley King; for anyone looking for more of the same, this is the perfect follow-up. Again, the story focusses on Betsy Bow-Linnet and her wonderful troupe of highly-trained mice – the 44 tiny secrets of the original story. Now though, the existence of the mice is no longer hidden and here we find out more about both the mice's unique talents and Betsy's family.
Our story kicks off just before Christmas, and we find Betsy and her beloved grandfather decorating the house – a tradition they have shared over the past few years, Betsy is aware that this year Grandad is not having fun but is going through the motions for her sake – something that is of concern to her and means that she too is not enjoying herself. The mice, on the other hand, are having a ball – nibbling away on all of the decorations. To stop them destroying everything, Grandad suggests they teach the mice some acrobatics and before too long they are climbing up and down, and swinging on the tinsel.
When her parents return from a shopping expedition (remember those?), Betsy asks them why Grandad is not his usual self only to be told by her father to look out of the front window. She does so and is surprised to see that instead of the usual dog-walkers out on the common, there is a hive of activity: a circus being erected. This is not any circus though, because it is Fry and Sons – the circus which Betsy's grandmother joined when Betsy's mother was only seven, leaving both her and Grandad behind. Having not returned to the town since then, its appearance has understandably upset the old man greatly.
As Betsy and her father discuss Operation Cheer- Up Grandad, one of the mice falls – injuring a paw and necessitating a visit to the vet. With her parents having prior social commitments, Betsy finds herself taking all of the mice to the surgery, which is situated at the other side of the common. After receiving medical treatment, Betsy intends to take the injured mouse and its companions back home but cannot help but be curious about the circus – thinking this will be her only opportunity to see part of her late grandmother's life. Planning to be home before the rest of her family, Betsy pays for a seat and heads into the big top to watch the show. After being entertained by several acts, a magician comes on – Enoch the Splendid – whose act doesn't quite go to plan when it is invaded by several of Betsy's mice.
Following the show, Betsy finds her way to the magician's trailer and knocks on the door to ask for the return of her mice. The two of them get on like a house on fire, but when ringmaster Mr Fry knocks on the door, Betsy hides in a vanishing cabinet. From there she listens to Fry berating the Splendid for his act not going to plan and – feeling guilty – steps out of her hiding place to confess her part in what has happened. After Fry watches her putting the mice through their tricks, he demands that she brings them back the following day to be the highlight of the show or else he will have to sack the magician.
A miserable Betsy returns home with her head spinning at the thought of having to return the following day, with the result that now it is Grandad's turn to worry about her. How will Betsy be able to keep her word to Fry without her family – and in particular Grandad – finding out? Will the horrid ringmaster sack Enoch the Splendid anyway? And just what are his plans for Betsy's 44 Tiny Acrobats?
As with the original story, this is an absolute delight and the text and pictures work perfectly together to hook in the reader and keep them entertained. There are several nods back to the first book – including several references to Grandad's highly expressive elbows, which had me chuckling – but you do not need to have read that to enjoy this whimsical tale with all of its little twists and turns. Now that Betsy and her father are no longer feeling obliged to play the piano to performance standard, as they did in Book 1, they are starting to develop a lot more freedom to engage in their own interests, with Bertram's wonderful cake obsession featuring quite prominently here too.
Again, there is a deeper message hidden underneath all of the laughs – one of forgiveness and the importance of being true to yourself. Betsy is too frightened and feels too guilty to tell her family what she has got herself into after visiting the circus for the first time – emotions that even as adults, we sometimes experience and many young readers will empathise with her greatly. Here, because her adults love and care for her so deeply, she soon sees that she could've told them what has happened much earlier, before she finds herself out of her depth. There is a beautiful scene later in the book, when Betsy finally talks to Grandad about her grandmother leaving him – something that she thinks she has always seen from his point of view, but really hasn't – which is perfectly written and left me with a real lump in my throat. If nothing else, I hope that the hidden message there is one which children will take on board.
This is a book which will be a sure-fire hit with able readers in lower Key Stage 2 as well as a great many of my class who need or want a slightly shorter read, or one with pictures. As before, the black and white illustrations are enhanced by the use of splashes of colour – red and pink in this case, which give them a bold, fresh look. Many readers will find themselves spending longer taking in their details than those in some books where, sadly, the illustrator's work has a tendency to become filler. With the back of the book promising us that 44 Tiny Chefs is coming soon, I for one am very much looking forward to seeing what happens next to Betsy, her mice and Grandad.
Enormous thanks to Little Tiger for my gifted copy received ahead of publication on February 4th. A not-at-all tiny 5 out of 5 stars.