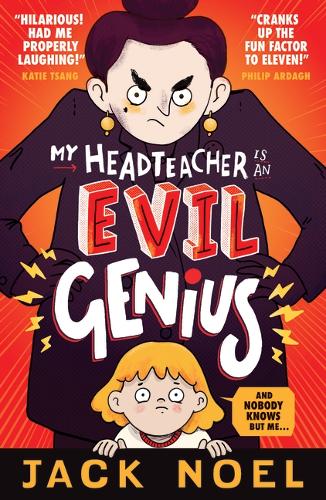 Somewhat unusually, a few days ago I found myself up-to-date with reading those books that I felt I should prioritise reading and so turned my attention to the rest of my increasingly large TBR pile. I'd had a shocking couple of days in school and, being in dire need of something light and cheering, turned my attention to this little beauty – a title I bought last year after seeing one of my very favourite authors – Thomas Taylor – comment on how much fun it was.
I don't tend to read very many books set in schools. This isn't a conscious decision, although I'm sure for some teachers stories set in the classroom might seem too much like a busman's holiday. Of those I have read, several have fallen – like this one – very firmly into the funny book category. And, let's be honest, there is enormous potential in writing funny books about schools – partly because most of our young readers are familiar with how they work, and partly because there is something very naughty about adults in authority behaving in ways they shouldn't.
Which leads us to this book, and our heroine Tom (short for Thomasina) who is not – as we might expect – sitting in lessons or out on the playground, but is in fact in the dentist's chair – having new braces fitted, something with which many readers will be familiar. Sadly, also familiar to many readers will be the sight of Tom's mother whose eyes are firmly on the screen of her phone as she takes no interest in what is going on and plays Fruit Fantasy 3. After being given a list of foods to avoid and a sticker as scant consolation for her visit, Tom finds herself back at Belton Primary – a slightly rundown, very ordinary school where, unfortunately, Tom doesn't have friends to whom she can display her new metalware.
Painfully shy and socially-awkward, Tom spends her break circling the perimeter of the playground – a 'game' she calls Walk the Block – and uses the time to observe everyone else around her. Her solitary occupation is disturbed though when she is struck on the head by a frisbee thrown by pretty cool Sam Rowse. As she imagines herself making the perfect throw to return it, she is startled by a sudden noise and is horrified to see the frisbee smash through one of the library block windows. Looking round to see where the noise has come from, Tom spots a limo arriving – one which the children expect to contain a celebrity but which has actually brought Ms Fortune – the new Head – to the school.
While the new Head has Big Deal Energy and is glamorous and cool, it is not long before she starts to make her mark – shaking up the staffing and telling the pupils that they will all be missing out on a treat because of the broken window. After she sends two of her new teachers to Tom's class, where they cause massive disruption, Tom becomes aware that she has clenched her teeth in anger and frustration – something which bizarrely seems to be linked to her now being able to hear the teachers and Ms Fortune talking together. At first, she is unsure as to what to do with her new-found power but when it becomes clear that Ms Fortune has plans for the school which do not seem to be of any benefit to its children, Tom will need to overcome her shyness to alert her peers and come up with a plan to stop the Evil Genius who is Ms Fortune…
Although stories like this very clearly do not have the possibility to be true, I think it vital that children see themselves reflected in humorous reads as well as those which are more serious. I don't remember reading any other titles with a braces-wearer in them, but I have known lots of children, like Tom, who have worn them. Quite often, they make the wearer very self-conscious and to use them as a device to bestow a talent upon Tom is – I felt – a masterstroke. I have worn glasses since I was quite young and having been bullied mercilessly at both primary and secondary schools, I would've been thrilled to see someone just like me in a book and – just possibly – it might have made those bullies think twice about their unkindness.
Not only is the story very funny, but all the way through the book the author has included some wonderful little asides which children – and any adults reading along with them – will love, such as the inclusion of a very useful mnemonic which brought a smile to my face. There are even a few jokes within the book which are clearly aimed at adults – something that seems to happen more often now – which I hope will encourage parents reading this to share other books with their offspring. Although my two are young adults now and I only get to read to children in school, there is such an enormous pleasure to be gained in sharing stories. At the moment, while we are in lockdown during what would ordinarily be a depressing time for a lot of people, books like this I am sure will be bringing a lot of joy to those reading them – something which many of us are grateful for right now.
My Year 5s will love this book as would some of the more confident Year 4s. I'm very much looking forward to taking this in to share with my bubble and am certain that once my class are all back together, this will be a title I will struggle to keep on my Little Library shelf. 5 out of 5 stars.