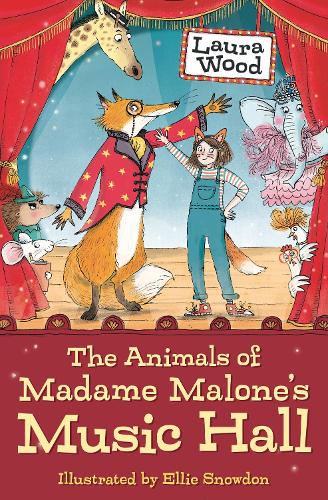 Having loved Laura Wood's YA book A Sky Painted Gold when I read it last year, and – more recently – her middle grade story Vote For Effie, I was super-excited to hear that she had written a new, shorter title for publishers Barrington Stoke. As I've said before here, I have several readers in my class for whom these more accessible books are a vital part of their being able to read proper books like their peers and for whom there is a lot less choice of suitable reading material on my little library shelf.
One of these in particular has an unfortunate tendency to read a lot of David Walliams books – partly because her parents recognise the name, and partly – I guess – because they are an easy buy at the supermarket, so I am doing my best to counteract this by directing her towards these high-quality titles in the hopes that both she and her parents will take the hint. When we broke up for half term, she was reading another BS title – Emma Carroll's The Ghost Garden – and I am very much looking forward to putting this book into her hands next week because I know she will absolutely love it.
Our story focusses on Callie, who is being looked after by her much-loved grandmother for the summer break, while her parents have to work. Expecting her holiday to be mainly spent playing on the local beach and eating ice creams, the disappointing reality is that Callie is spending rather a lot of time at the old seaside theatre where her grandmother and friends are rehearsing a play.
Wanting to support her gran, Callie finds herself an honorary member of the local players – something that would've been great fun when she was much younger, but is now the source of considerable anxiety because the budding thespians want Callie to take part too – something that fills her with dread because she has terrible stage fright. While Gran tries her best to take control of the somewhat disorganised proceedings, Callie wanders off to take a closer look around the theatre.
Climbing up on the stage to have a nose behind the curtains, Callie soon finds herself in what appears to be an incredibly realistic forest and she soon becomes scared by her surroundings. Expecting to find her way back to her grandmother, she follows the voices she can hear, but is amazed when she not only finds herself in another theatre but face-to-face with a talking mouse. He, however, has not only been expecting her but also reveals that Madame Malone is relying on Callie to take part in the show which she is putting on.
As she finds out more and more about Madame Malone's company of animal players, Callie discovers that their theatre is under threat of closure and without her support will soon face its final curtain. Will Callie be able to overcome her stage fright to help out the animals and will she be able to find her way back through the trees to rejoin her grandmother?
When I was a child, grandparents were a completely different kettle of fish to what they are now. Where mine stayed at home, with no apparent interests or hobbies, and struck me as incredibly old, today's grandparents most definitely have lives of their own to lead and so it is with Callie's grandmother. Although we do not see much of her, I think the inclusion of her character is a very positive thing. While today's children – in my experience – have very strong relationships with their grandparents, I think it is really important that they can see that life is there to be lived to the full for all of us – not just the younger members of society, and that message is spelled out very clearly here for them.
Callie herself is a sweet girl – one who doesn't want to let down either her grandmother's friends or Madame Malone and it is through throwing herself into helping that she gains in the confidence she so needs. Again, this is another important message for both children and their parents to be exposed to. Very often in school, we have children declining opportunities to take part in activities because they lack the confidence to even try, and sometimes parents who will shield their children from these chances, believing that they are acting for the best. While I am certainly not advocating bullying children – or adults – into doing things that will make them miserable, I think it vital that children understand that feeling the fear and doing things anyway, generally speaking, leads to all sorts of opportunities to join in that may not come along again.
This is a lovely story, gentle without being overly saccharine and with a great cast of characters that I know several of my children will absolutely adore. Enormous thanks, as always, must go to Barrington Stoke for my gifted copy read ahead of publication on March 4th. 5 out of 5 stars.