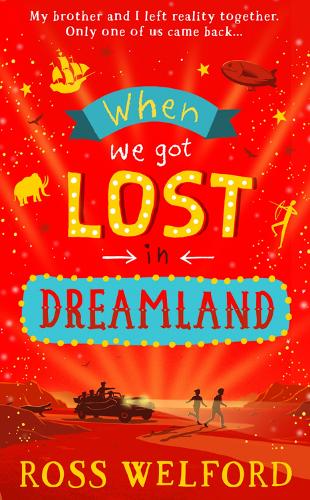 Dreams have long fascinated humans – indeed the ancient Greeks placed such importance on them that amongst their many deities was Morpheus – the god of dreams – and today there are dream analysts galore who will decode the hidden meanings of what your subconscious comes up with when you are asleep, if you are into that sort of thing.
I recently tweeted a comment regarding a nightmare I had experienced – one which was so incredibly vivid that I awoke in a real panic and even now, several weeks later, my blood runs cold when I recall it. It would appear from the replies I had that I am not alone in experiencing such a thing during lockdown, with plenty of others saying that they had also experienced particularly clear dreams, many of which were unpleasant. Which leads me, in a roundabout way, to this new title where individuals' dreams not only have the potential to be extremely horrible but also to cause them real harm.
As the result of a dare by an older child, Malky breaks into an old man's shed and steals a paper bag which he thinks is full of junk before taking it home with him. Without having the chance to even have a proper look inside, he is caught by younger brother Seb who very quickly senses that Malky has been up to no good and turns it to his advantage. Sneaking upstairs to check out the booty, the boys soon discover that the bag contains two Dreaminators – curious devices which the accompanying instructions state will allow the user to experience dreams, the like of which they have never experienced before.
Keen to put them to the test, the boys eagerly hang them over their beds and go to sleep, only to find themselves in the same dream – something that excites them both enormously when they wake up and realise the potential the Dreaminators have for fun of a type they have never imagined. Thrilled by their initial success, and desperate to test the limits of their sleeping adventures, the boys continue to share dreams until the fun starts to wear off one night when Seb doesn't wake up and is taken to hospital in a coma.
With none of the adults he talks to believing Malky's explanation of what has happened, he must work out a way to get back into Seb's dream to rescue him. But on whom can he call to help him to get back in to Seb's dream, and just how is he to do this without putting himself in the same position and ending up in a hospital bed alongside his little brother?
Like most people, there have been those dreams from which I do not want to wake – ones in which I have felt blissfully happy, or have had the power of flight, for example. Conversely, there have been other times when I have had those brief moments of wakeful dreaming when I have known I am asleep and have been unable to control what is going on around me, or – even more terrifyingly – have suffered sleep paralysis, where I have been aware that I am waking up and have been unable to move a muscle. For all of us, the possibility of lucid dreaming – being awake while asleep – and able to have those adventures we have always longed to have in a completely safe way, or meet our heroes, is an enormously tempting one and one I suspect that few of us would resist if the opportunity were offered to us on a plate.
In Malky's case, the acquisition of the Dreaminators is accidental – the result of a moment of madness – and leads him to find himself in the position where his younger brother has power over him – something no older sibling wants. When things start to go wrong, it is that power that Seb wields which leads the boys into danger because he cannot see the danger like Malky can.
The effect of peer pressure is a theme that crops up throughout the book and is something that we often discuss in school. Here, if the book were to be used as a class reader, the impact of Malky doing what he knows is foolish – or just plain wrong – is spelled out very clearly and some fantastic discussions could be had about the consequences of acting irresponsibly, at one end of the spectrum, and breaking the law at the other.
For an upper Key Stage 2 class, or even into Key Stage 3, this would make a fabulous read. It is exciting, packed with detail and is written in short chapters which will keep its audience on the edges of their seats. Awake before 4 o'clock again this morning, and not particularly wanting to get up, for once I didn't resent my body clock as it gave me the chance to finish this ahead of school – something for which I was very thankful. I spoke to one of my home learners this morning who reads almost as many titles as I do, and who has run out of reading material, and I have promised her this when she comes back – I know she will devour it, and love it as much as I did.
Enormous thanks to both Toppsta and Harper Collins for my gifted copy. A spectacular 5 out of 5 stars.