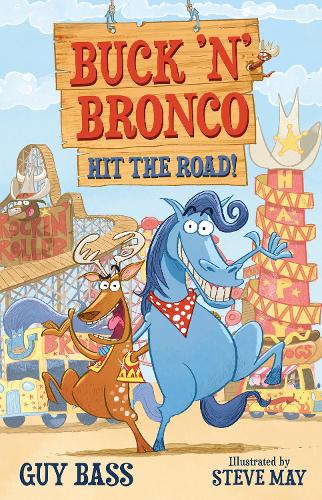 Like a great many book-reading teachers, I am always on the lookout for funny books that I can recommend to my class as an alternative to those written by a certain author that, shall we say, I am less keen to promote. Guy Bass's hilarious Skeleton Keys books continue to be an enormous hit with my class – and in schools up and down the country – not only with those who are more confident, but also with my more reluctant readers, as a result of the fabulous dark humour contained in the stories.
With many of my less keen readers having worked their way through those titles, and now needing something new, when I was offered the chance to read and review this book – illustrated by Steve May, rather than by Pete Williamson – I was very keen to do so, as I know they will be desperate to read this. This is not just because they will recognise the author, but because – unlike many of the humorous titles I have on my shelf – this is not off-puttingly long, nor is it overloaded with text – an important consideration as far as they are concerned. This shorter read, packed full of wonderful illustrations is going to appeal enormously because – like all of publisher Barrington Stoke's books – it is a proper book: one which is easily accessible and which none of my class would feel embarrassed about reading in front of their peers.
It seems like an incredibly long time ago that I last went to a theme park, but for a great many children, days out at places like the Happy Ranch one are the highlight of their summer. The Happy Ranch – however – has had its day, and has been closed down – much to the sorrow of its mascots Buck 'N' Bronco. Worse still, the park is due to be demolished and our two heroes are bereft at the thought of no longer being able to Bring the Happy to its guests.
As the bulldozers move in, Buck 'N' Bronco decide against applying to be mascots at the soon-to-be-built Islands of Tomorrow theme park and set off in their Bronco Bus to see what the world has to offer them. The world, they soon discover, is a vast place and after driving for a while they realise they are in need of fuel. With this at the forefront of their minds, they end up heading to Wunderville: Town of the Future. What will they find when they get there? Will they be welcome? And – most importantly – will they be able to Bring the Happy once again?
Buck 'N' Bronco are a brilliant pairing who reminded me of an old married couple in the way they interact with one another. Each knows the other inside-out and where they have up until now rubbed along quite happily together, they are facing huge upheaval in their future. As they start to think about what best to do, they realise that they will need to adapt to a changing world – as so many of us have had to do over the past year since the advent of Covid – and it is not an easy thing for either of them. By supporting one another and considering one another's strengths, it is clear that they will be successful and this is an incredibly powerful message to send to younger readers, many of whom are – quite understandably – still quite wobbly right now, just a few short weeks after returning to school.
This story really is the most tremendous fun. Packed full of laughs and with some wonderful toilet humour, it will be a sure-fire hit with younger readers – and their adults. I was not familiar with Steve May's artwork before I read this, but his illustrations echo the humour of the writing perfectly. There is one picture in particular, almost halfway through, which will have many readers in fits of laughter – as it did me.
Suitable for children in Year 2 upwards – although some younger, or less confident, readers will benefit from this being a bedtime read, shared with an adult – this is going to be a book that I suspect I will have a waiting list for when I take it in after the Easter break. Laugh-out-loud funny and with its focus on friendship and the importance of kindness to others, I will be recommending it to my colleagues with younger charges as a possible shared read.
Huge, huge thanks go – as always – to publisher Barrington Stoke for my gifted copy, received ahead of publication on April 1st. A fantastic 5 out of 5 stars.