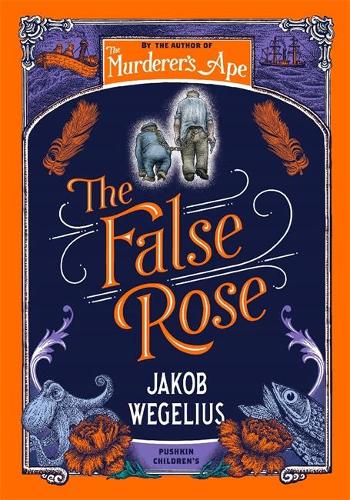 There are very few books which I would describe as perfect. Even my very favourites that I regularly shout about on Twitter, titles of which I will never tire, are not generally what I would consider to be flawless. And then there is The Murderer's Ape – the title which precedes this one and which is unlike any other I've ever read. One of those just one more chapter adventures in which I found myself deeply invested when I read it, it's a book that I never wanted to end and yet was desperate to find out how it finished, with a protagonist who has stayed with me ever since because I cared so deeply about her.
That protagonist is Sally Jones, the murderer's ape of the title, who spends much of the first book battling to prove that her friend – The Chief, owner of the boat on which she works as ship's engineer – has been wrongly convicted of committing a murder. Highly intelligent, enormously skilled with her hands, and with a caring and passionate heart, she is no mere gorilla but an inspiring heroine who is far more human than many of the people she encounters.
Having successfully been reunited with The Chief at the end of that book, we find the two friends back on the Hudson Queen, where they are approached by a man who introduces himself as Harvey Jenkins. Jenkins appears to be quite knowledgeable about the Clyde Puffer and asks to look around for old times' sake. Following his tour, he falls into conversation with Sally Jones and The Chief and after finding out that the ape will be on her own once The Chief has temporarily left on a sailing job, tells them that he will keep an ear open for work at the travelling funfair where he is employed.
After The Chief has departed, Sally Jones receives a note from Jenkins offering her a job – which she takes as the Hudson Queen is in need of costly repairs – and she finds herself working evenings on the merry-go-round at the fair. When one of the other employees comments that Jenkins has pulled strings to get the ape the job because they are old acquaintances, Sally Jones finds herself wondering what motivation Jenkins would have for doing such a thing. Of more concern though is the apparent presence of someone on the boat while the gorilla is at the funfair – someone who appears to be searching for something.
Following The Chief's return from his voyage, he and Sally Jones are surprised to discover a valuable necklace bearing a carved rose that has been hidden onboard all of the time that they have been travelling together. Keen to reunite the necklace with its rightful owner, the two of them find themselves travelling to Glasgow to find out more about the item, and for whom it was created, but it is soon clear that they are not the only ones who are aware of its existence.
Falling foul of a notorious Glasgow gang, The Chief is left with no option but to carry out a job for them leaving a helpless Sally Jones behind – a prisoner at their mercy. As the ape becomes more and more aware of just how merciless the gangsters are, and their plans for criminal supremacy, will she be able to escape from their clutches? And if she can, to where can she run?
As with the first book, I defy anyone to pick this up and not be hooked from the very first page. The scope of both stories is enormous and while they are much longer than almost every other children's book I have ever read, they do not feel like long books – there is no great effort involved in reading them. Please don't misunderstand me when I say this – I do not mean that the books are easy reads, rather it is that they are so beautifully crafted that once picked up it is incredibly difficult to put them down again. The combination of the story, the illustrations and the translating skills of Peter Graves is sublime and – as with The Murderer's Ape – this book is sheer perfection. It is also worth saying that while I would always recommend you read the first title ahead of this – because, why wouldn't you? – the story works perfectly well as a standalone title.
Again, Sally Jones finds herself interacting with a huge variety of other characters – some of whom have a very different moral code to hers. At every point where she is faced with the choice of doing right or wrong, she reflects on those choices and chooses to do what she believes she must – even if that means risking her own life. When she is drawn into the shady Glaswegian underworld, in a sort of Scottish Peaky Blinders, she is left with no option but to carry out the wishes of those holding her to protect her own being, but throughout her ordeal she is ever mindful of how her actions will impact on those around her.
There are no superlatives I can write here that will truly do this book justice. It is quite simply one of the best books – not just children's, but in general – I have ever read and is one that mature children of Year 4 age upwards, as well as many adults, will adore. I absolutely loved it and am already looking forward to re-reading it soon – not something I do with the vast majority of what I read.
It is only right and proper that I should send the most enormous thanks to publisher Pushkin Press, who so very kindly provided me with an advance proof, ahead of publication of the hardback on October 7th. If there is a better early Christmas present to a younger reader – or to yourself – this year, I would be hard-pushed to say what it is.