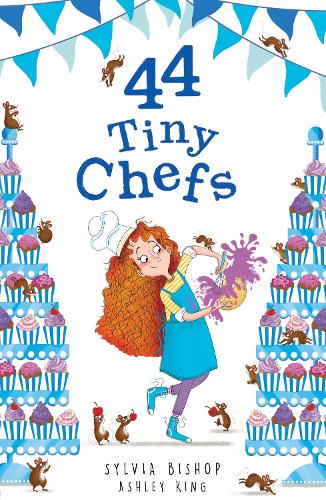 Over the past six months or so, I've made a real effort to look out for high quality books for my colleagues in lower Key Stage 2 to share with their classes, and which will provide my less confident readers with the same sort of choice as their more confident peers. One of the reads that has proved especially popular with many in my class is 44 Tiny Secrets – the first in this series – together with its successor, 44 Tiny Acrobats.
Both of those books are well written and enormous fun – fabulous stories, packed with gentle humour and brilliantly illustrated which are an absolute joy to read – so seeing that they were to be joined by a third title, I was delighted when I was offered the chance to read and review it. For anyone who is a fan of the books, this is the best yet – a charming tale again featuring young Betsy Bow-Linnet and her quirky family – but it will also work perfectly well as a standalone read for anyone who wants to dive straight in here.
For many children – and many adults too – being offered an enormous pile of cakes to eat would be their idea of heaven, but for Betsy being expected to eat an éclair on top of what she has already consumed is a treat too far. The cakes in question have been baked by her father Bertram, who is in need of a hobby with which to occupy his time and who has been hit hard by the closure of his local bakery.
With the number of cakes he is baking spiralling out of control, Betsy decides to give some to her neighbours and they are so well received that she hits on a plan to start to sell them from a little stall at the end of the road. When her snobby Great-Aunt Agatha gets wind of this, she is horrified and reacts by buying the closed-down bakery to give Bertram a proper outlet for his talents.
Excited by having his own bakery, Bertram and his family use it to bake for his birthday party to which Betsy sneakily invites the Royal Taster of Fine Foods for Her Majesty the Queen to attend. Overwhelmed by the quality of what he eats, the taster invites Bertram to supply cakes for the forthcoming Royal Gala – a huge honour that, of course, he accepts. But as the gala approaches, it is clear that he might have bitten off more than he can chew and the whole family, ably assisted by Betsy's incredibly talented mice, have to pull together to help him. When the finished cakes are collected though, Betsy realises there is a problem with what they have sent and the race is on to sort it out before the Queen becomes aware of it…
The one thing for me that really shines through this series is the deep love that the Bow-Linnets have for one another. Betsy's parents and grandfather are all quite eccentric in their own ways but they all support one another when one of them finds themselves having difficulties and this support is always given willingly, without hesitation. Whenever Betsy encounters any problems, she reacts – as many children do – by not wanting to ask for help and trying to resolve things by herself, and is always taken aback when the rest of her family come through for her. For those children who find it difficult to share their worries with the adults in their lives, the book sends a clear message that by doing so these worries can frequently be addressed and sorted out, which I think is a very positive thing.
As before, the mice have a key role to play in the unfolding plot and they are an absolute delight. Although they very much come as a team, when the action focusses on just one – as it does here in several parts – it is clear that they each have their own individual personalities, which adds enormously to the fun. And there is fun aplenty here, with accidents with piping bags and the ongoing references to Grandad's elbows putting a huge smile on my face at several points in the story.
Perfect as a shared read for children in Year 3 upwards, or an independent one in upper KS2 for those less confident readers, this is is a title which is visually appealing and which for those older readers who are ever conscious of the importance of reading proper books in class that are not perceived as babyish, will be a popular addition to my class shelf.
As always, I am enormously indebted to publisher Little Tiger for my copy received ahead of publication on 8th July. A perfect 5 out of 5 stars.