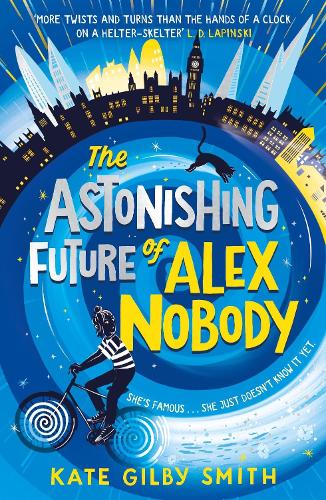 In an age where a great many people are obsessed with celebrity, the idea of being famous and having my every move recorded for other people's entertainment has never really appealed. Sure, I would like to achieve something which might merit that 15 minutes of fame that Andy Warhol talked about but, generally speaking, I am happy to live in total obscurity.
For those few children who are famous, usually either they have been born to it, such as the younger members of the Royal Family, or they have been guided into it – such as actors in TV dramas, for example – but they must all surely be aware of why they are so well known, and what is expected of them as their lives progress. Imagine then, being the subject of scrutiny for reasons unknown to you – the premise of this brilliantly imagined new title.
The child who is the focus of the attention is Alex – a very ordinary young girl who lives with her much-loved Uncle Henry following the sad loss of her mother during her birth. Henry has raised her as best he can in his own unique way, educating her at home and feeding her curiosity with lots of hands-on investigations into the technology around them until Alex decides that she needs to find some friends her own age by attending school. Used to learning in her own style, and with no idea how the school system works, Alex struggles to fit in and finds it odd that random people pop up every so often around her, apparently taking an enormous interest in what she is doing.
When Henry suggests she has a party for her twelfth birthday and asks her peers to come, she is horribly disappointed that none of the invited guests turns up. Her disappointment is soon forgotten though when a boy called Jasper, who she has never seen before, arrives and they immediately hit it off. Things improve further when her new friend then joins her class and not only walks home with her, but also stays for tea. Friendship blooms over the next few weeks, but Alex finds it very odd that she knows so little about Jasper and presses him to tell her more about himself. This is something that he says he can't do and a frustrated Alex tells him that maybe they're not friends after all. Alex is left bitterly regretting her words when Jasper fails to attend school the next day and she wonders how to get back in touch with him until he turns up outside and throws her a note through the window asking to meet her.
Sneaking out to meet him, Alex is frightened by Jasper's strange behaviour and comments. Before he has the chance to tell her much, he warns her that he is about to be taken away and a mysterious woman arrives to do just that. Alex can only watch as Jasper and the woman disappear into thin air, leaving her alone. Putting two and two together, Alex realises that this is somehow linked to the strange people who have been popping up all of her life and starts to put into place a plan to find her friend. Travelling into the future to find him, Alex is astonished to find out what has been going on around her and just how she is involved in it all…
Like a great many individuals, Alex is smarter and braver than she believes herself to be. In school, she is hugely disadvantaged by suddenly finding herself within a system which tends to adopt a one size fits all approach and does not accommodate either her clear intelligence or her curiosity; what is worse, her unsympathetic teacher cannot see that she needs time to settle in to the system and support in developing the social skills that would allow her to do so more easily. Although she soon finds someone in whom she feels she can place her trust when she goes in search of Jasper, and is happy to be guided by them, as she gains in confidence, ultimately she is responsible for making the decisions and acting accordingly to drive herself towards her goal.
Although Alex is very much the star of the show here, the secondary characters all work brilliantly alongside her. Her uncle, who ends up as her guardian with no notice and no experience of bringing up a child is a delight as he – like so many parents – just does his best for her but, more importantly, loves her unconditionally. Jasper, when he arrives, wants to be her friend but is bound by unknown reasons to hide the truth from her and when he disappears Alex is bereft at the loss of the only other person she has an emotional attachment to. When she travels through time in her efforts to track down her friend, she finds herself taken under the wing of a rather eccentric woman whose intentions may not initially be entirely honourable, but who clearly feels quite maternal towards Alex and helps her as best she can. Perhaps it's because I'm an adult, but I grew very fond of her as the story progressed.
Obviously, the book is aimed at younger readers though and this a great title for mature Year 4 children and those in upper KS2 onwards. Funny in parts, hugely original and a tremendous adventure, I am awarding it 5 out of 5 stars.