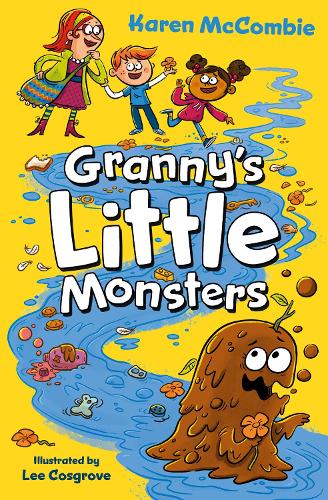 The children that I have taught over the past few years would possibly tell you that, with me, everything comes back to food – usually biscuits. While this new title isn't something that I would consider nibbling on, the expression to eat with your eyes sprang into my mind when I first this, because – if it were something to be eaten – its fabulous cover surely promises the reader the most delightful of feasts.
This artwork, together with the title of the opening chapter – The funnest of fun!, leaves the reader in no doubt as to what to expect within its covers because not only is this read tremendous fun, but it is also a delightfully charming tale – one which portrays the close bond between three members of the same family, and which left me with a huge smile on my face and a warm glow when I finished it.
Those family members are cousins Zac and Essie, who spend every Saturday with their beloved Granny. After catching the bus to her flat, they are introduced to cat Cookie who Granny has borrowed to see whether or not a feline companion would suit her. Deciding against the idea, Granny goes on to try out a selection of other possible pets over the next few weeks, but not finding one that she likes decides to take her niece and nephew mudlarking for the day.
Instead of finding all sorts of interesting old lost items, however, Granny, Zac and Essie stumble across some sort of monster, which they take home with them. Will this prove to be the pet of Granny's dreams, or the stuff of her worst nightmares…?
Many children have pets – usually the always popular dogs, cats and hamsters etc, but others I have taught have had snakes, spiders and other creatures, to whom they have been extremely attached. On the other hand, some children don't – often because a family member has an allergy, or because they are in a rented property where pets are not allowed, but almost without exception children love and are fascinated by the prospect of that interaction with an animal friend. For those children who insist that all of their friends have pets and who cannot see that there is a flipside to the cuddles and fun, this would be a very gentle way of showing them that actually animals can be very hard work and not every residence is suitable to home one.
Granny is a wonderful character – an adult who many children will recognise as somebody whose rules are different from their parents' or guardians' and with whom the children have a wonderful time, with no chores or homework to spoil their day. Full of energy, she is far more modern than the grannies of old and is delightfully in tune with her younger relatives so that the time they spend together is equally enjoyed by all, and this would be a beautiful story for different generations to share together.
Suitable for children in lower KS2 upwards, this is a charming story, brilliantly illustrated by Lee Cosgrove, whose pictures perfectly capture the humour of the text they accompany and is one which I know many of my new class, which contains quite a few less confident readers, will enjoy reading over the forthcoming school year.
As ever, huge thanks must go to publisher Barrington Stokes for my gifted copy of the book, which is on sale now. A monstrous 5 out of 5 stars.