This is (as my nearest and dearest will confirm) a very rare picture of me but one of my New Year's resolutions (again) was to be braver so here I am!
This is a list of those books that I'm eagerly anticipating. Some are sequels to ones I've really enjoyed while others are reads that have sparked my interest. I've tried to keep them in order of publication, but Covid has delayed some so a few are out of sequence.
Fight Back by A. M. Dassu
Boy, Everywhere was an astonishing debut – a powerful, one-sitting read about a boy's flight from Syria and this is going to be another must-have for many readers. Described as: 'an essential read to encourage empathy, challenging stereotypes, exploring prejudice, racism, Islamophobia and positive action', this is a book I had to pre-order and cannot wait to read. Publishing June 2nd.
Amari and the Great Game (Amari 2) by B. B. Alston
With shades of Harry Potter and Nevermoor, Amari and the Night Brothers was an incredible read – packed with excitement and magic. I don't know much about this, other than it's the sequel and a book that I for one am very much looking forward to reading. Due September 1st 2022.
Magicborn by Peter Bunzl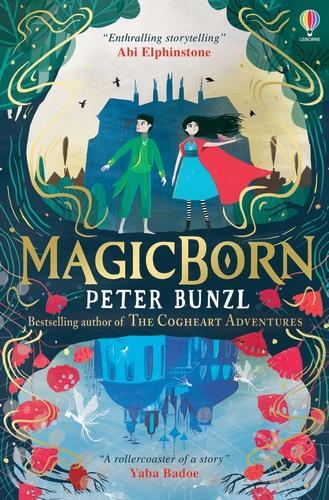 I felt bereft at the end of the Cogheart books, and while I enjoyed the author's short title Featherlight for Barrington Stoke last year, I've been waiting for something longer into which to sink my teeth and am hoping that this will be it. The first of a new historical-fantasy series, this ticks so many boxes for me and I know many others will be hotly anticipating it too. Expected 26th May 2022.
The Underpants of Chaos (Tuchus & Topps Investigate, 1) by Jenny Pearson and Sam Copeland
Written by two of our funniest authors, this first title n a new series featuring Spy-detective Agatha Topps promises mystery and laughs galore, as well as evil underpants and Transylvanian gargoyles. Expected June 9th.
The Mermaid Call by Alex Cotter
Alex's debut title, The House on the Edge, published last year was a fabulous story including parental mental health and a missing child and I'm very much looking forward to this. Promising A gripping story of myth and mystery about a legendary mermaid and her dark power as well as terrible, watery danger, I am sure I'm not alone in adding this to my TBB list. Expected July 7th.
Myriad Mysteries of Eartha Quicksmith (Quicksmiths2) by Loris Owen
Kip Bramley's first adventure which resulted in his joining Quicksmiths College of Strange Energy was one of my favourite books of 2020 and has been very popular with some of my more confident readers who will be as thrilled as me to find out what is next in store for him. Publishing 7th July.
The Ministry of Unladylike Activity by Robin Stevens
A sister series to the enormously popular Murder Most Unladylike titles is always going to be a welcome thing. This, the first book, is set during WWII and sees Hazel Wong's younger sister May being roped in to spy for the British government. Sure to be packed with the author's trademark observations and sense of adventure, I for one am going to struggle to wait for this book expected October 2022 in hardback.
The Accidental Stowaway by Judith Eagle.
If you haven't as yet read either of Judith's books – The Secret Starling and The Pear Affair – I urge you to do so. Both are the most delightful mysteries, which make you feel as though you are being hugged and leave you with a fabulous warm glow. I am anticipating more of the same in her newest title, about which I know absolutely nothing at the moment, other than its title and that it is expected in August 2022.
Dread Wood 2
Jeniffer Killick must surely be the queen of middle grade horror, mixed with her trademark humour. I'm a huge fan of both Crater Lake titles and Dread Wood – her first title for publisher Farshore. After the terror of that title, I cannot wait to see what happens next to the members of Club Loser. Anticipated 1st September 2022.
Honesty and Lies by Elose Williams
Earlier titles Wilde and Seaglass are two examples of the fabulous writing that contributed to Eloise's being Welsh Children's Laureate until recently. Set in Elizabethan times, always a popular period of history with readers, this story tells the story of two young maids who serve at court and find themselves embroiled in plots, traitors and treachery and I cannot wait. Anticipated October 6th.
Silverborn by Jessica Townsend (Morrigan Crow 4)
The Nevermoor series just gets better and better and with Morrigan's destiny taking an unexpected turn in Hollowpox, I know there will be many readers desperate to find out what happens in his title due October 13th 2022.
Festergrimm by Thomas Taylor
With the first chapter of the penultimate of the Eerie-on-Sea Mysteries included at the back of Shadowghast to whet the reader's appetite, this is the 2022 title I am most excited about. With each title unbelievably getting better and better, there are many of us who will be counting down to read this new adventure for Herbie and Vi. Publishing 1st September.
Book a free consultation today.