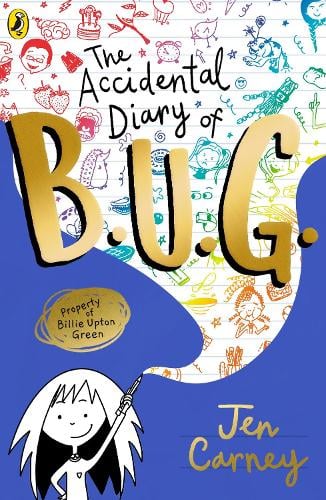 This little gem is a book which possibly I wouldn't have pre-ordered but for the fact that I came across a conversation on Twitter where someone was criticising it for having a family with two mothers. Seeing this as a positive, especially in a book aimed at lower KS2 – an age-range where I didn't have any knowledge of titles with same-sex parents, I immediately added it to my TBB list – in common with the person replying.
I try not to buy books just to tick boxes with regard to diversity, but my little library shelf is still lacking in titles for my less-confident readers, and I am keen that they have access to a similar range of protagonists as their more-confident peers. Having now worked my way through this title, and enjoyed it enormously, I'm especially glad that I chose to buy it as it is very readable and one that I am sure will be a popular read with those in my class who need an alternative to the likes of Wimpy Kid etc.
Billie, our young heroine, is the B. U. G. of the title – given the nickname Bug by some wags in her school due to the misfortune of her initial letters. After introducing herself and BFF Layla to us, Billie proceeds to tell us about the new girl in her class – Janey McVey, who has moved to the village with her mother following a divorce from Janey's father. Billie has taken an immediate dislike to the new girl – initially labelling her a show off and then deciding, without any real evidence, that she must be responsible for stealing a purse from one of the teachers in school.
Billie's nose is further put out of joint when following a conversation between one of her mothers and Janey's, Janey is invited round to play and proceeds to tell Billie that she cannot possibly have two mothers – something that Billie very soon puts her straight on. When Billie's parents announce they are to marry, Billie is delighted and starts to make plans for her role as bridesmaid.
As the wedding day gets closer and closer, Billie starts to worry more and more about the threat of Janey coming between her and Layla and determines to find evidence to prove that she is the thief. Will she be able to get to the bottom of the mystery? Will she lose her BFF to the new girl? And if Janey isn't responsible for the theft, then who is?
In school, we try hard not to assume gender stereotypes but by the time they get to me in Year 5, increasing levels of female hormones in the girls start to rear their ugly heads bigtime. Where the boys will quite often fall out with one another and will then be playing football together very soon after, when the girls fall out they do it in style. Girls tend to see friendships as all or nothing and all too often I end up mediating between tearful youngsters who are devastated at having their friend taken away from them.
Billie is no different in this respect from any other girl. She desperately wants Layla to be exclusively her best friend and finds it really hard to accept that Layla might want to build any sort of relationship with Janey because she doesn't herself. Janey – on the other hand – is the new girl struggling to fit in and suffering the loss of her father who lives getting on for 400 miles away and who is badly in need of establishing a social circle in her new setting.
Many children will identify with the characters in this book, for so many reasons. For some whose parents embark on new relationships, seeing their adults with somebody new can come as a shock and throw up all sorts of emotions. Billie knows nothing other than having two mothers but I have taught children who have suddenly found themselves with a parent starting out on a same-sex relationship after the breakdown of a more traditional male-female pairing and who have found this even more challenging because, sadly, they encounter the prejudices of a minority of small-minded individuals who disapprove. In this book, children will see that a loving relationship is a loving relationship and that is all that should – and does – matter.
As well as being a great starting point to discuss relationships of all kinds, the book is very funny in parts and with its inclusion of artwork by the author on every page is one that will make it a sure-fire hit with independent readers in Year 4 upwards, and younger children as a shared read. With Book 2 – Basically Famous – due on 19th August, in time for the latter half of the summer holiday, I'm hoping that that there will be lots more adventures for Billie to come. A fabulous 5 out of 5 stars.